SEPTEMBER 2007 NEWS REPORT
September 16, 2007

IT'S A BOY
Mrs. Laa and her husband welcomed their first child into the world on July 3, 2007. They are the proud parents of a healthy baby boy named Inthason. Alex is his short name or nickname. Although only 5 pounds at birth, he is growing rapidly. A special Buddhist ceremony was held to introduce Alex and his 2 week younger cousin to friends and family. They could be twins. Alex will be in the loving care of his Grandmother while Mrs. Laa returns to work with INDIGO THREADS expanded school lunch program for this school year.
GOOD WISHES AND GOOD LUCK TO THE NEW FAMILY.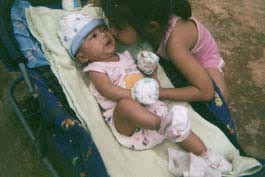 A DEADLY SNAKE BITE
A burial ceremony was held recently for a 24 year old young, married man who was bit by a snake while walking on a dusty, dirt road near his wife's village. He was treated with traditional medicine but died within 3 days of the bite. It is not clear if the large Provincial Hospital in Pakse City has anti venom serum available. In this case, the species of snake was too quick to identify. Perhaps, they could not have saved his life but made him more comfortable. This tragic death is shocking. In developing countries, particularly, lives are still threatened by a snake bite. Secondarily, traditional medicine continues to be the first choice of treatment for deadly healthy issues. The parents of this young man live in one of INDIGO THREADS assisted villages. He will be missed by his many friends and family.
FIRST DAY OF SCHOOL
Most of Southern Laos schools opened on Monday, September 3, 2007. INDIGO THREADS Education Support Program helped 650 primary school students with school uniforms, pens and writing tablets. This year we added primary school hardship scholarships to our program. The students are selected by the village chief from the very poorest families in his village. Most often, the student have only one parent. These students were provided with everything they needed for school and paid tuition. This is a pilot program. Depending on the results, all student assistance in the future could be by hardship scholarship application. Two hundred thirty text books were donated to two schools: Lao language, math and social science. Five shiny new bicycles were presented to 10 appreciative secondary school students traveling long distances to school. Most of these students receive school lunch from INDIGO THREADS School Lunch Program. Each and every gift is given directly to the students individually from INDIGO THREADS director and staff. It is a very time consuming task but well worth every smile and thank you. We want them to know we care.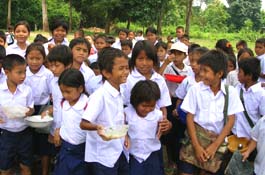 For more information, please contact Mary D. Meyer/President-Director mdmeyer@indigothreads.org.
- 30 -