Programs
INTRODUCTION TO EDUCATION SUPPORT PROGRAMS
Indigo Threads focuses on educating primary school age children to stress the priority and importance of education at an early age. Due to survival hardships, Indigo Threads provides the essentials for children to attend school. We give the gift of education; a gift that lasts forever. School lunch is included to encourage attendance. Parents make a commitment to send their children to school everyday. We are a small organization which allows us to have a personal relationship and communication with each village, discussing problems and solutions.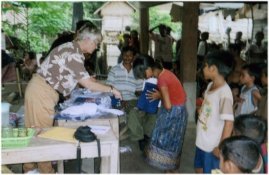 STUDENT'S UNIFORM AND SCHOOL SUPPLIES PROGRAM:
In order to help parents clothe their children for school, Indigo Threads provides a standard, quality uniform and foot wear (flip-flops) to each student at the start of the school year. Uniforms are not always required but we find them to be cost effective and creates a special attitude about attending school. 325 students at two schools received uniforms this year. Pens, pencils and writing tablets are given to the same students. Pens are the preferred writing tool.

SCHOOL TEXT BOOK PROGRAM:
Each subject has a text book, reading, writing, Lao language, arithmetic and history according to the students grade level. It is not uncommon for teachers to instruct students from the only text book available. Indigo Threads provides appropriate text books for all students. Text books are passed on from one year to the next.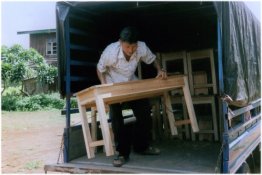 SCHOOL FURNISHINGS PROGRAM:
Indigo Threads has donated 40 bench-table style desks to two schools made by Mr. Low, our carpenter. Three students occupy one desk. It is our goal to increase enrollment dramatically making desks always on the 'need list'. Double-sided blackboards are donated once a year. We have replaced 18 deteriorated blackboards, continuing replacement as our budget permits. Colorful Laos maps hang on the otherwise bare school concrete walls.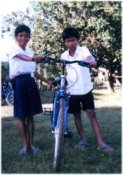 BICYCLE PROGRAM:
Although most of our attention is directed to primary school students, secondary school students travel 3-5 miles on a busy highway to school. To encourage attendance, once a year bicycles are donated to the villages. The village chief assigns two students to a bicycle. One student rides on the back. It is the responsibility of the students to take care of the bicycle. Next year we project to double the number of bicycles donated.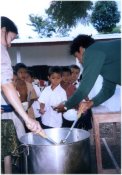 SCHOOL LUNCH PROGRAM:
School lunch is not part of the Laos education system. Our pilot school lunch program has developed into serving lunch 5 days a week, 1,400 lunches, for students and teachers at two primary schools. A nutritious, healthy soup is cooked at Indigo Threads office in Pakse City by two cooks, Mr. Boonpanh and Miss Laa. By 10:30 AM, our transportation has arrived to take the 3 huge pots of soup and bottled water to the schools. Hungry students line up with their bowls, ready for Indigo Threads lunch staff to serve. Bottled drinking water is provided as part of the lunch program. Rural schools do not have wells for safe drinking water. Again, this program is to encourage daily attendance.


TEACHER'S TRAINING COLLEGE SCHOLARSHIPS: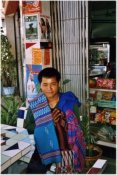 Students are selected from the Pakse Ethnic High School for poor students from all of Southern Laos Provinces. Indigo Threads scholarships provide for tuition, books and dormitory facilities. Currently, we are sponsoring three
scholarships, projecting to double that number to 6 in 2007. We encourage our recipients, after completing their education, to teach in the school districts Indigo Threads assists. Mr. Atiane, a second year recipient, received school honors for his good grade average last year.
TEACHER'S TEACHING AID PROGRAM:
Rural school teachers do not have basic school supplies to develop active learning among their students. Indigo Threads donates supplies to each teacher to assist them with their teaching skills. Crayons, drawing paper and colored markers are favorites. We provide soccer balls, kick balls and badminton to encourage competitive sports for students.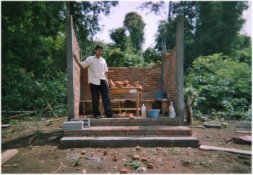 SCHOOL CONSTRUCTION PROGRAMS
Indigo Threads first attempt with a building project resulted in a school latrine. Rural schools usually do not have these facilities. More importantly, the students need safe, clean drinking water at their schools. Indigo Threads has projected to provide three schools with wells in 2007. To enable students to attend school near their villages, we have committed to building a 3- classroom primary school. This school was completed in August 2007. The formal donation/dedication special ceremony was held on September 7, 2007. Read more about the ceremony on the web-site Blog,
INTRODUCTION TO VILLAGE COMMUNITY BASED PROGRAMS
These programs allow students to attend school instead of working with their parents in the rice fields or attending to younger siblings.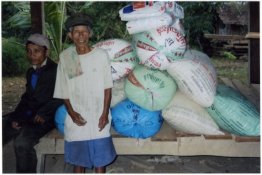 VILLAGE SUPPLEMENTAL RICE PROGRAM:
Twice a year, Indigo Threads donates ½ ton of rice to each participating village. Distribution is done by the village chief, instructed to give an equal share to each family.
VILLAGE HEALTH CARE:

As in many parts of the world, health care is an issue. Indigo Threads is attempting to help with emergency care and simple treatable illnesses. Malaria is a prevalent illness and a preventable one with low cost mosquito sleeping nets.
CHILDREN'S VILLAGE RECREATION PROGRAMS;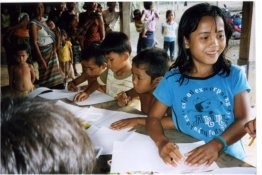 Village children are happy, playful and so shy. Their enthusiastic group greetings are heartwarming, once they get to know you. Indigo Threads Children's days parties are held in each village to entertain the younger children. Everyone is an artist that day. Paper and drawing implements are a luxury at home and school.