Contact
MAILING ADDRESS:
Indigo Threads
1601 W. Canal Court, Littleton, CO. 80120 USA
MAIL DONATION CHECKS TO THE ABOVE ADDRESS, ONLY.
PAY PAL IS AVAILABLE ON THIS WEBSITE TO ACCEPT YOUR DONATIONS.
Website: www.indigothreads.org
01-760-564-2679 (US) 856-020-5535-9915 (Lao Mobile)
MS. MARY D. MEYER-Founder/Director/Project Manager
Known as 'GRANDMOTHER FALANG' in the rural villages.
Email Address: mdmeyer@indigothreads.org
Photo: Indigo Threads rural So. Laos' nutritious School Lunch Program projecting 13 needy schools with an estimated 1,800 students and villagers.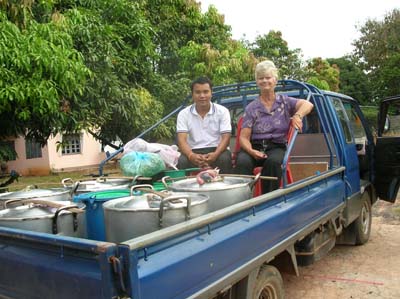 INDIGO THREADS Pakse office residence house is located at Nondue Village, Km. 2 Pakse, Laos. New location as of November 1, 2014. Ms. Mary divides her time between Pakse and the US, therefore, it is best to call beforehand. Indigo Threads Laos mailing address is P. O. Box 565, Champasak Province, Pakse, Laos PDR.
PLEASE DO NOT SEND MONETARY DONATIONS TO OUR
PAKSE POST OFFICE BOX. Laos' postal systems is not stable.