THE HORN OF PLENTY . . . A Holiday Message from Indigo Threads President
November 15, 2007
As we prepare for the coming holiday season, anticipating our special celebration feasts, gifts and decorative trimmings, the 'horn of plenty' is empty in many parts of the world. Over 850 million people in the world are without enough food. The numbers increase daily. Since l979 the United Nations has designated October 16th as World Food Day observed by 150 countries. The 2007 World Food Day theme is "the human right to food". The lack of food encompasses every aspect of life other then hunger and malnutrition to include poverty, sanitary living conditions, clean water, health care and education.
While working in the field, directly with poor, rural Laotian families, the lack of nutritious food is overwhelming and heartbreaking. One-half of the children 5 years old and under are chronically malnourished. Children's protruding bellies are no longer an unrelated television request for support. These are children I know. INDIGO THREADS continues to support village families with a yearly donation of supplemental rice. Despite our efforts, 20-50 kilo bags (2,000 pounds) of rice allow each family only 2 kilo or less in most villages. In 2 ½ years, the price of rice has increased by $11.00 per 50 kilo bag.
The photo below, although unidentifiable to most, is INDIGO THREADS school lunch 'horn of plenty'. Starting in the 2005-2006 school year with one school lunch per week, we have developed into a 5 day per week program serving 1,300 lunches per week to students and teachers at their schools. From my point of view, this is our most important program. The program is the only one of its kind in Laos, to my knowledge. It is our best effort to address hunger and nutrition among the primary school students. Our intent is to enable students to learn by enriching their bodies and minds with nutritious food. Close attention is paid to adding quantities of protein and dark green vegetables to the daily soup. Blood (congealed buffalo, pig, cow blood) and tofu are our sources of protein in a beef/pork stock. Dark green vegetables are plentiful year 'round in Southern Laos due to the mild climate. Because of the lack of calcium in the children's diet, many dark uncooked vegetables are added to the soup. Each day varied starches are selected. Three huge pots of soup are transported daily.
THIS IS INDIGO THREADS 'HORN OF PLENTY' FOR OUR
LAOS
STUDENTS
Eradicating hunger allows dignity, hope and peace.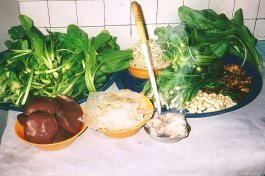 Holiday wishes to you and your families with greetings of good health and happiness. Thank you to those who have committed to supporting INDIGO THREADS, LAOS EDUCATION AND VILLAGE DEVELOPMENT and to those that will be making a caring commitment in the near future.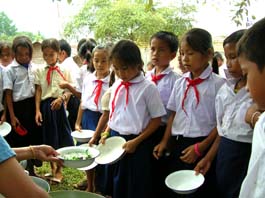 Mary D, Meyer/Indigo Threads-President/Director/Founder
www.indigothreads.org mdmeyer@indigothreads.org
- 30 -